Converse Sneakers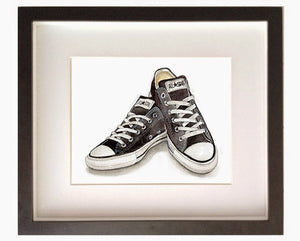 I am starting off my 2015 post
with a fun illustration of
As a kid, I remember calling them gym boots.
I am hoping to have other colours in store but for now the black and white ones are available.
---
Also in Blog
Forever in Blue...When two Brisbane creatives come together.
Deanne Maiocchi and Michelle Grayson of Sprout Gallery join forces to create a stunning design collaboration.
Sprout Gallery has brand new greeting cards now in stock.
Beautiful new prints and paintings just in time for Mother's Day