More magnolias. More blue and white...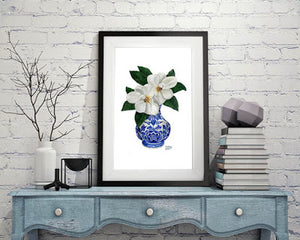 I thought I would add anther magnolia painting to the collection.
This time a couple of flower blooms in a single blue and white vase.
Original and prints available through the shop.
If you don't fancy framing them yourselves you can purchase framed prints from Botticelli House
---
Also in Blog
Forever in Blue...When two Brisbane creatives come together.
Deanne Maiocchi and Michelle Grayson of Sprout Gallery join forces to create a stunning design collaboration.
Sprout Gallery has brand new greeting cards now in stock.
Beautiful new prints and paintings just in time for Mother's Day